A high quality conservatory is paramount to enhancing the value, adaptability and practicality of your home in Kent. Buy Right are happy to offer a versatile range that can accommodate for any and all Kent properties.
Our collection includes the Victorian Conservatory, Edwardian Conservatory, Gable Conservatory, Lean-To Conservatory and the Bespoke Conservatory.
High Quality Conservatory Installation
Because we're conservatory specialists, we can confidently guarantee a high quality installation. We'll be with you all the way from your initial quotation through to the actual fitting. This means that we can custom build your extension to meet the needs of your property in Kent
The installation need not be a stressful affair for you, our experts will take care of all designing, planning and building work. This not only ensures a quality finish, it also means that the installation will go as smoothly, and efficiently as possible.
Outfit your home in Kent with an exceptional extension from Buy Right, and benefit from a fantastic service across the board.
Adaptable Conservatory Design
A conservatory is a great way to extend the living space of your Kent property. Whether your home is contemporary or traditional, our experts can provide your home with the perfect fit, which will ensure maximum space and usability.
A fantastic element about conservatories is their complete multi-functionality as a living space. For some, they act as an extra dining room or living area, for others it is converted into a home office or play room. There is a myriad of ways you can use your Kent home extension, and most importantly, the choice is completely yours.
Conservatory Range
Our conservatory range is comprehensive and accommodating, with designs ranging from the contemporary to traditional, they can be fitted and adapted to any and all Kent homes.
Victorian Conservatory
The Victorian design features a beautifully traditional aesthetic, offering a beautiful extension to any traditional Kent property, and a classic touch to any contemporary Kent property.
Featuring a multi-faceted design, the Victorian style is octagonal in shape. This gives you exceptional views of your garden, whilst simultaneously allowing natural light to flood in. This design is a beautifully spacious, and aesthetically attractive extension for any Kent property.
To really complete the traditional look, subtle and charming finials are added to the roofline for a lavish and classic look. Choose the Victorian style from Buy Right today, and
benefit from an extension that has won the hearts of many generations.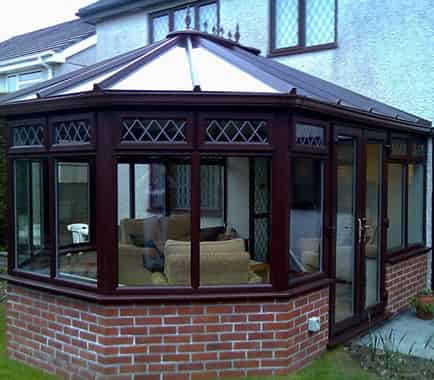 Edwardian Conservatory
Another ancestor of a traditional extension design, the Edwardian style consists of a square or rectangular shape. This offers bountiful floor space, which allows Kent homeowners to really make the most of the space a home extension can bring.
Although sporting a traditional aesthetic, the Edwardian design can be easily fitted to any Kent property, and will prove itself to be a beautiful addition wherever it is installed.
To achieve the classic look, the Edwardian style is complemented by clean and crisp lines, which allow this design to exude finesse and elegance.

Gable Conservatory
The gable design is a beautiful way to add a stately touch to any Kent property. The spacious, high angled roof design amplifies light and creates a bright and endearing atmosphere.
Incorporating a 'rising sun' roofline design with the timeless Gable aesthetic, this design is always in style, and will prove itself to be a worthwhile investment for any Kent homeowner.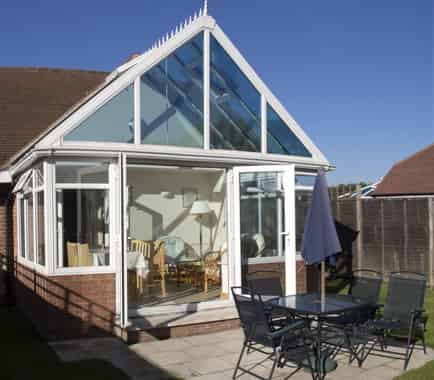 Lean-To Conservatory
An incredibly contemporary design, the lean-to style can be adapted to any Kent property. This option excels in adaptability, practicality and cost-effectiveness.
Because the lean-to can be easily fitted to smaller spaces, even Kent homeowners who live in bungalows or terraced houses can benefit from the lean-to's incredibly versatile installation.
Stylish and simple, this option has become a hugely popular extension in the Kent area.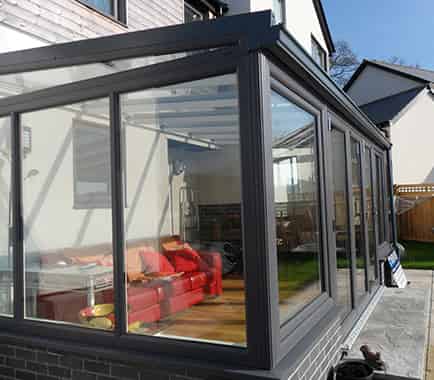 Bespoke Conservatory
The Bespoke option intelligently combines the lean-to with a different design to create a P-shaped layout. This is ideal for larger Kent homes, or Kent properties that have awkward housing space.
An easily tailored design, Bespoke Conservatories can be easily fitted your desired space. If you're a Kent homeowner looking for a unique design, the Bespoke is the choice for you.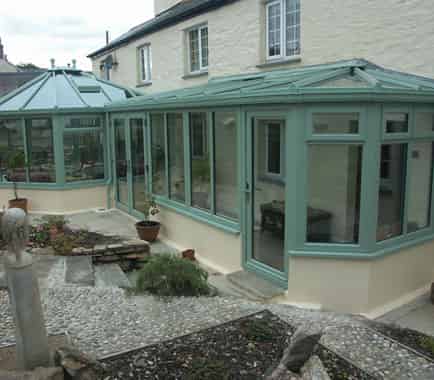 Conservatory Colour and Finishes
Our whole range is available in a wide selection of colours and finishes, spanning from the authentic wood-grained look to the standard, sophisticated pure white colour options.
Other colours include Golden Oak, Mahogany and Rosewood. All colours are in it for the long run, and will not fade or discolour over time.
Conservatory Prices
Interested in our conservatory prices? Get a free and instant online quote from us today, and benefit from our superbly competitive prices.
If you feel you require more information, you can get in touch with us via our online contact form, or call us on 01795 427 222.