uPVC Windows have proved themselves to be an exceptional addition to any Maidstone home.
All of our uPVC windows set the standard for thermal efficiency, security, versatility, function and design. We offer all Maidstone homeowners a range of options, including Casement Windows, Tilt and Turn Windows, Sliding Sash Windows and French Casement Windows.
Outstanding uPVC Windows
Often stated as the 'perfect uPVC windows profile', the Liniar uPVC profile is truly something to be marvelled at. Featuring a multi-chambered design,
integrated reinforcement, multiple weatherproofing systems and a thermal dam, the Liniar profile excels in every way.
Having been the only uPVC windows profile to have been designed in the 21st century, the Liniar profile not only takes uPVC windows quality to new heights, it also offers remarkable solutions to age-old window problems. This means that our uPVC windows eliminate draughts and chills, they are easy to use and are extremely low maintenance. By installing these uPVC windows into your Maidstone home, you'll be benefitting from the best.
High Security uPVC Windows
All of our uPVC windows feature integrated reinforcement, which utilises internal structures in order to provide exceptional standards of rigidity and robustness, without the need for steel reinforcement. Not only is this economically friendly, it is also cost effective as steel reinforcement can be costly.  This inherent level of strength greatly increases Maidstone home security by ensuring the very core of your uPVC windows is incredibly resilient to break-ins.
This internal uPVC windows strength is then combined with the world-class locking system from Yale. Yale locks consist of a high security, shootbolt design that ensures the highest standards of security available. These locks are the quickest way to complete Maidstone home security, and will ensure peace of mine throughout.
They are also accompanied with a 10-year mechanical guarantee and a £1,000 security guarantee, this covers your property for 10 years after installation and means you can gain up to £1,000 towards your home content insurance in the unlikely event your Maidstone home is broken into.
All of our uPVC windows are approved by Secured by Design (SBD), which means they have undergone a large number of comprehensive tests from a police backed initiative. To gain Secured by Design approval, any product that is subject to testing must pass and uphold the highest standards of security, and ensure that they reflect the SBD standard of crime prevention. Secure your Maidstone home today, with uPVC windows from Buy Right.
Thermal Efficient uPVC Windows
Our uPVC windows are guaranteed to notably increase the heat retention of your Maidstone home, which will not only increase home comfort, it will also enable you to save money on your heating bills. This is all achieved by the market-leading uPVC profile from Liniar, and the quality of our expert installation.
Your Maidstone home will greatly benefit from our uPVC windows, as they contain size-optimised chambers. These chambers break up mini-convection currents and lock in pockets of warm air, why you ask? By trapping in pockets of warm air, our uPVC windows keep your heating in your home where you want it, and will make sure your home not only gets warmer, but it stays warmer for longer periods of time.
Increased heat retention in your Maidstone home can be greatly let down by poor weatherproofing, which allows head to escape through draughts, and also allows the integrity of your uPVC windows to be compromised by water build up and wear. To ensure this doesn't happen, all of our uPVC windows are outfitted with specially designed profile contours which maximise natural drainage and prevent moisture build up. Keep the rain away, with Buy Right today.
Maidstone home weatherproofing and thermal efficiency is increased further by a unique 'glazing flipper' gasket, high performance double action 'bubble' gaskets and an innovatively designed thermal dam. When all of these features are combined, they greatly reduce cold transfer, water ingress, noise pollution, heat transfer as well as maintaining tight weather seals.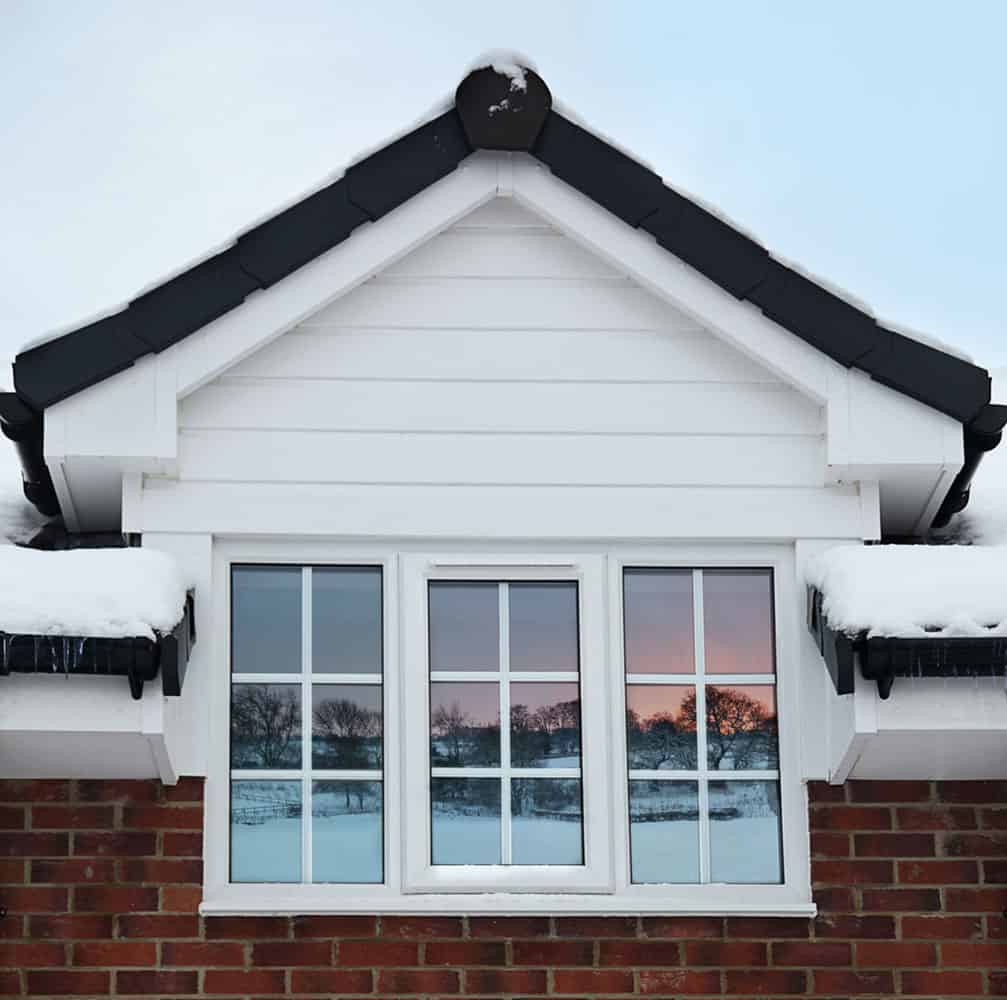 uPVC Windows Options, Maidstone
Casement Windows
Casement windows have shown themselves a sophisticated, practical and popular choice throughout Maidstone, and are a beautifully well-rounded uPVC window that will leave you satisfied across the board.
To ensure a beautiful aesthetic for your Maidstone property, all of our Casement Windows are hand finished by our highly skilled craftsmanship before they reach you. Not only does this ensure a smooth and beautiful finish, it also guarantees that you'll always get the best by choosing Buy Right.
All of our uPVC casement windows are fitted with stainless steel friction stays that are have been tested to 20,000 cycles. This guarantees complete protection and means that these uPVC windows will be a worthwhile, and a beneficial addition to any and all Maidstone homes.
Our Casement Windows combine slim sightlines and a chamfered rebate to achieve a beautifully classic, traditional and sophisticated look. Get the best look, with Buy Right today.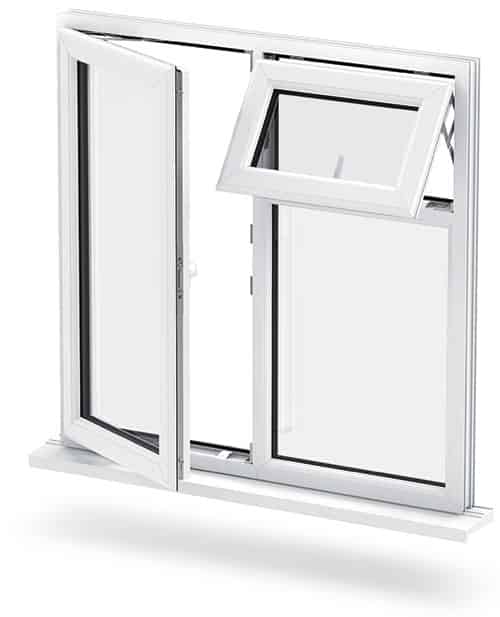 Tilt and Turn Windows
Tilt and Turn windows are a beautiful and practical way to enhance the function, aesthetic and dynamic of your Maidstone home. Simply put, tilt and turn windows allow you to do more, and they will bring more to your property because of it.
Tilt and turn windows feature a wonderful function that allows you to tilt the window on a 90° angle. This means that on a hot summer's day, you can open your window in a way that increases air flow without compromising on security. With Buy Right, you can get the best of both.
All of our Tilt and Turn windows are fitted with a 'Ferguar Silver' surface coating, which will give you long term protection against rust and corrosion. The Liniar profile also ensures that our Tilt and Turn Windows will never rot, warp or fade. Get enjoyment that lasts, today.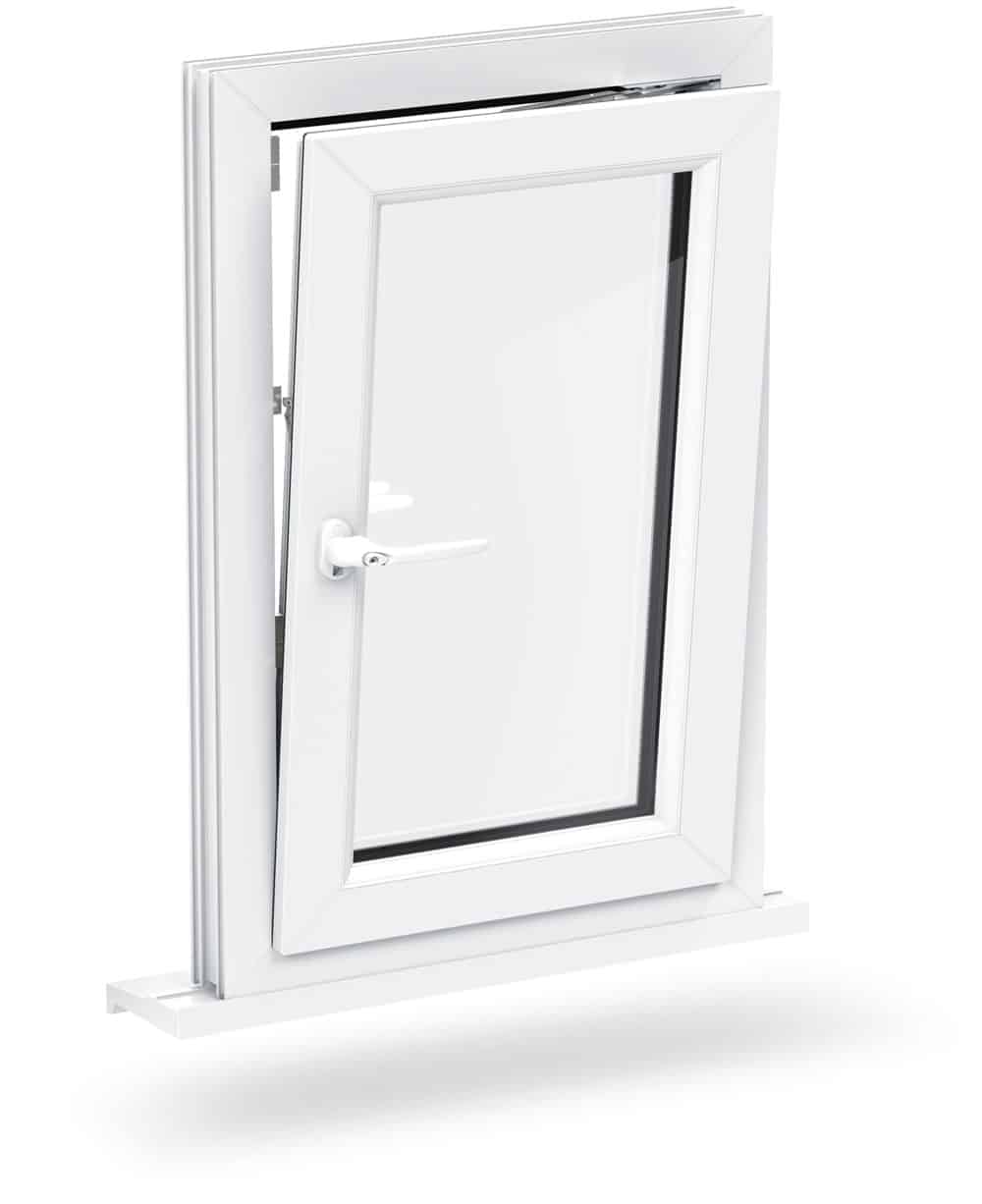 French Casement Windows
Beautiful, cultural and practical, French casement windows are a wonderful choice for any and all Maidstone homes. Offering a unique aesthetic and unique functionality, this uPVC window design is a remarkable option.
French casement windows feature a flying mullion which allows one of the window sashes to carry the mullion upon opening. This means that when you open your French casement windows you'll be left with a completely unrestricted opening, not only does this mean you'll have enhanced air-flow, it also means that the opening can be used as a fire escape in all habitable rooms.
To ensure these uPVC windows are chore-free, they are all fitted with easy-clean hinges which allow access to both sides of the window, which not only makes them easy to clean in general, it also means that they can be easily accessed if they're used as windows in high rise Maidstone properties, or as upstairs windows.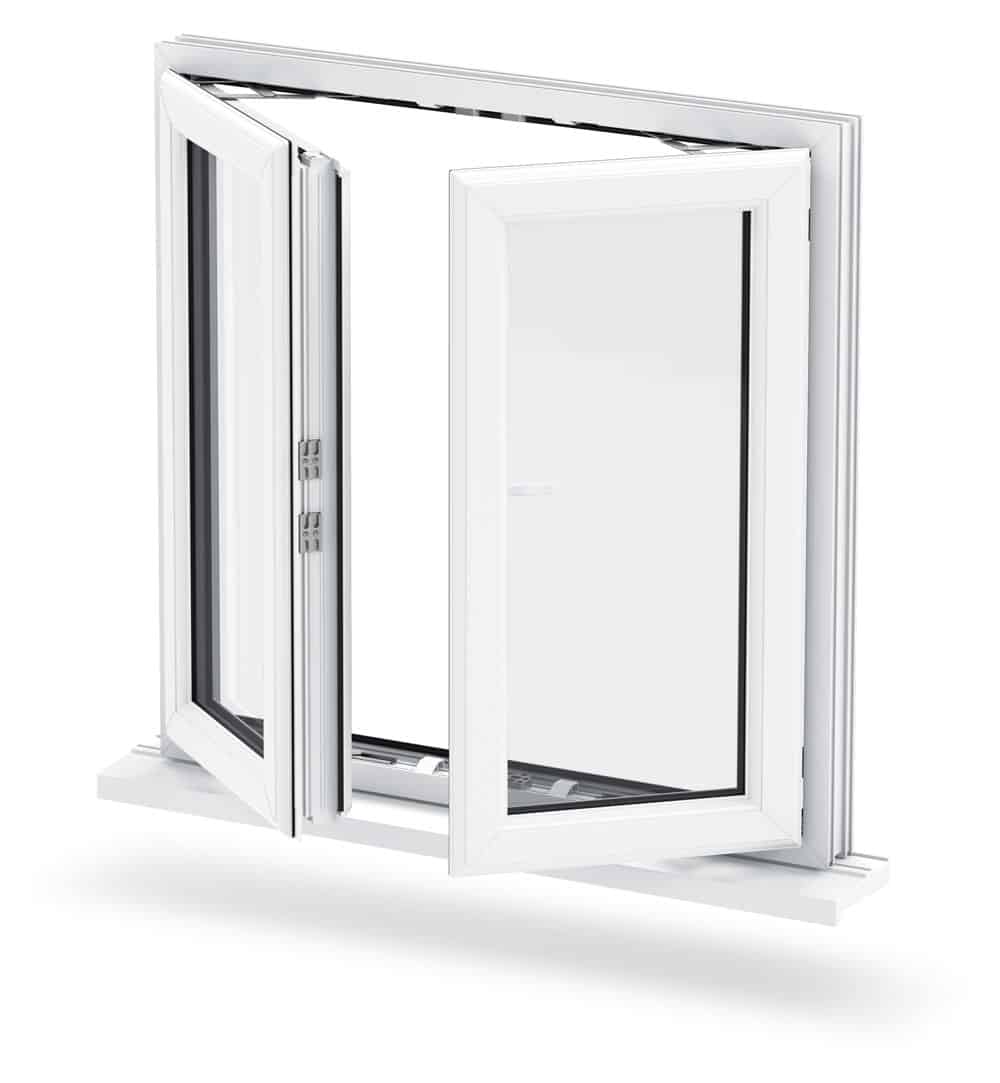 Sliding Sash Windows
Sliding Sash Windows allow Maidstone homeowners to bring a period charm to their property, whilst benefitting completely from all the benefits of modern window advancement and innovation. Bring harmony between the old and the new, with Buy Right today.
These uPVC windows stay loyal to the timber appearance of their traditional counterparts, but the Liniar profile enables them to achieve unbeatable levels of thermal efficiency, security and performance. You don't need to compromise, with our sliding sash windows.
Spring balance systems and restrictors are installed into all of our Sliding Sash Windows in order to ensure safety and ease of use throughout. The balance mechanisms offset the weight of the sliding sash in order to ensure that they are not heavy or hard to lift, whilst the restrictors stop the sash from falling fully and trapping any fingers. Make sure your little loved ones stay safe, with Buy Right.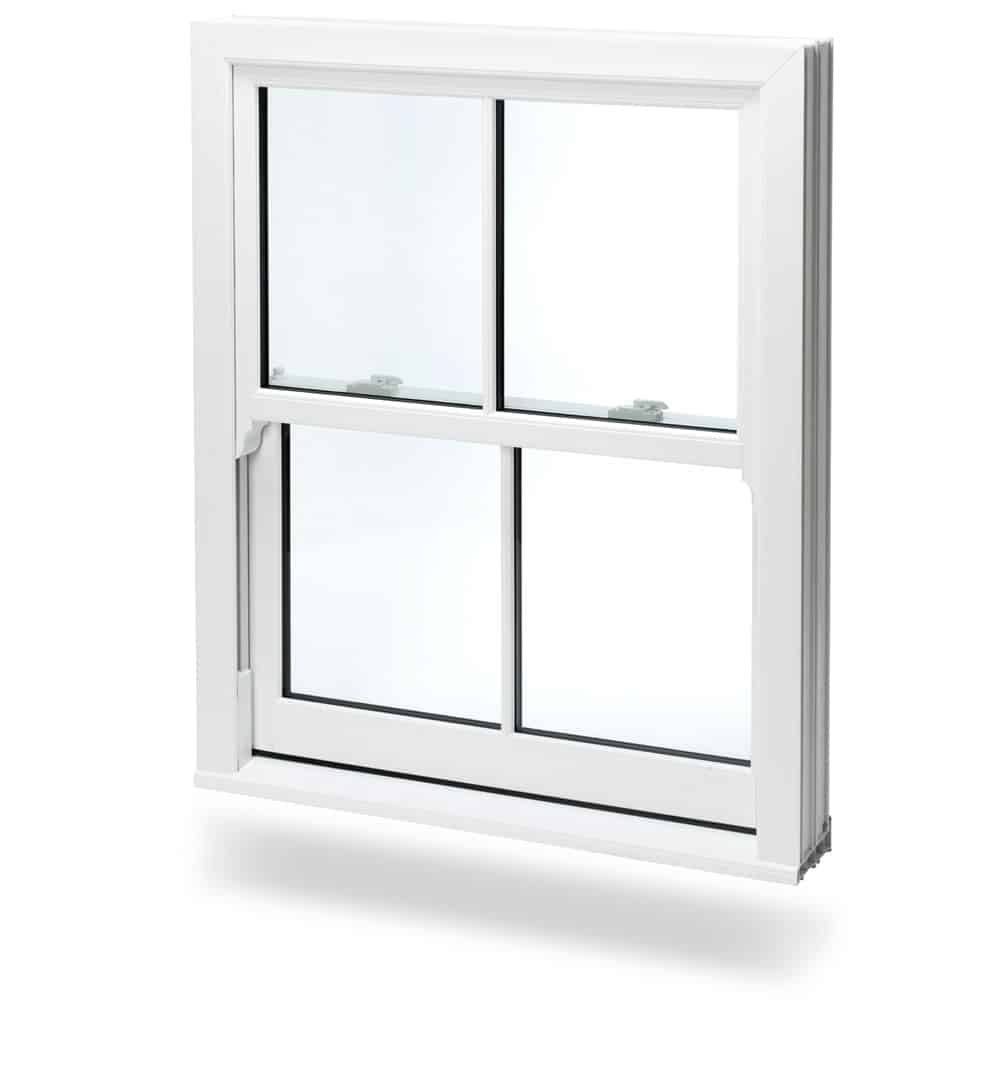 uPVC Windows, Maidstone
If you think our uPVC windows are the right choice for your Maidstone home, then don't delay in getting a free, instant online quote from us today, and you'll be able to advantage of all the benefits that competitive pricing has to offer.
Feel you need more information? You can get in contact with us via our online enquiry form, where a member of our friendly team will always be on hand to help with any problems or questions you may have.