uPVC doors are supplied and fitted by Buy Right throughout Kent. All of our uPVC doors are tailor made and fitted by our double glazing experts. We have over thirty years of trading experience. Our front doors come in a variety of colours and styles and can be designed to accommodate for wheelchair access.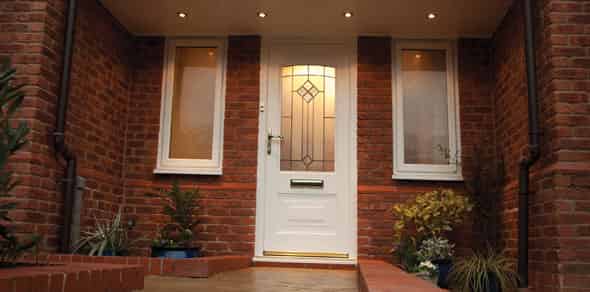 We at Buy Right specialise in supplying high quality and sturdy uPVC front doors in Kent. Our range of uPVC doors are rigorously tested for strength, security and energy performance. Because of these tests, we can confidently say that our range of uPVC doors are energy efficient, strong and fantastic value for money.We have joined forces with Liniar and Yale to deliver the best uPVC doors on the market!
You may be asking yourself why we work with Yale and Liniar to bring uPVC doors to homes around Kent. It's not just the great range of uPVC doors on offer, it's the in built security and added energy efficiency that attracts us as a supplier.
So if you're looking for a new doors this winter, choose a uPVC door from Buy Right Windows.
uPVC Front Doors
Our uPVC doors add charisma and charm to your property. You want to have an attractive front door, it's one the first thing you see when arriving at your home. Something as simple as replacing your front door will immediately make your home appear welcoming and attractive.
Here at Buy Right Windows we have an extensive range of striking uPVC doors. All uPVC doors can be modified for your needs. We offer our customers various colour schemes, styles and finishes. Why not complete your uPVC front door by adding a colour co-ordinated letterbox?
Our uPVC doors are manufactured here in, Britain. We can easily customise your new uPVC front to perfectly match your Kent property. Why not have contrasting uPVC door accessories or stained glass to really highlight the character of your Kent home. You'll be pleasantly surprised by the sheer number of design modifications open to you when purchasing a new uPVC front door.
uPVC Doors save you money
Up to 20% of heat from Kent homes escapes through ill fitted and old front doors. Our uPVC doors are double glazed to dramatically improve energy efficiency. uPVC doors are environmentally friendly too. We ensure that all our uPVC doors are completely lead and steel free. This makes our uPVC doors 100% recyclable, which is good news for the environment.
Liniar manufacture and design our uPVC doors to be energy efficient. The multi chambered technology inside the front door traps pockets of warm air, assuring that cold air cannot make its way into your Kent home. The uPVC door fits perfectly into its made to measure frame. Glazing flippers and thermal dams help to control noise pollution and helps prevent water from entering your home. Because we take the time and effort to construct our uPVC doors without lead and steel, our sturdy front doors remain lightweight as well as robust. This also leaves space for a positive drainage system, yet more defence against the Great British weather…

Security you can trust
We fit all of our uPVC doors with the world's leading lock brand, Yale. Like you, we don't take any shortcuts when it comes to the wellbeing of you and your family. Your new uPVC door will provide the ideal shield against the most determined of would be intruders.
Yale's Lockmaster is backed with a ten year malfunction warranty and up to a £1,000 contents insurance guarantee. For good reason.
The Lockmaster is an incredibly resilient multipoint lock. The central latch and hook combine with an anti-separation hook to create an unmovable seal between the door and the frame.
A claw hook at the top and bottom of the door further improve security to the top and bottom of the frame whilst pre-compression rollers ensure that the door operates smoothly, with added weather protection.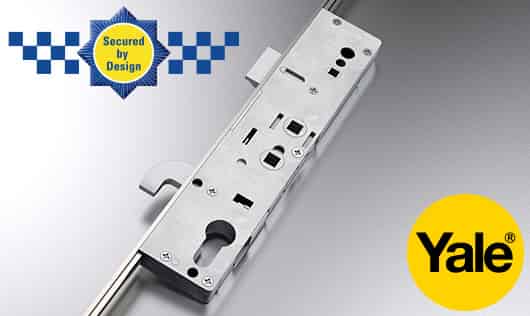 Get an online quote today
Buy Right Windows offer an easy to use, step-by-step online quote system. If you want to see how little a uPVC will cost you, follow this link. Or, alternatively, give one of our expert team members a call on 01795 427222.